Spectrum Contract Vinyls is a range of fire retardant upholstery vinyls in 84 solid colours and 3 metallic finishes.
Spectrum Contract Vinyl meets most International fire standards and is proven to resist staining, abrasion and scuffing in repeated laboratory tests. With our unique Prefixx protective finish Spectrum Contract Vinyl can be cleaned easily, over and over without showing signs of wear.
Please browse through our Colour Palette and Metallics ranges. Place an order or request a swatch by clicking on the colour you require.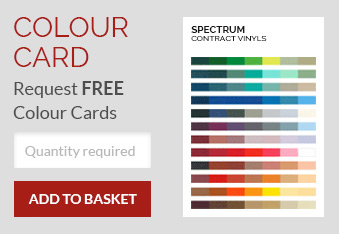 Prefixx® Protective Finish
Spectrum colour Palette is coated with Prefixx® protective finish designed to be cleaned easily. Common stains simply wipe off while more difficult stains like ballpoint ink can be cleaned with active solvents without damaging the Prefixx® finish.
Durability
Spectrum colour Palette vinyl comprises state-of-the-art resistance to staining, abrasion, scuffing, burnishing and blocking demonstrated in extensive laboratory tests.
Fire Retardancy
Spectrum Contract Vinyls are treated to contract fire retardancy standards:
UK: Crib 5 (Download certificate)
French Classification: M1
German Classification: B2 (DIN 53438)
Roll Size
Useable width 137cm
Length 27m
free-shipping